8 August 2012
T
he film crews have descended on Queens Square in Hemel Hempstead to continue shooting Diana with Naomi in business attire and high heels, closely resembling the late princess.
Naomi was spotted this morning wearing a blue blazer and pearl necklace filming a scene where a crowd cheers while she gets into a chauffeur driven car.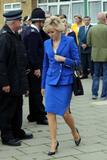 *More photos, all without tags, including full-view HQs on our forum
[here]
[Article]
Naomi Watts channels Princess Diana in coming movie
Aug 09, 2012, USA TODAY
Pictures of Australia-raised actress Naomi Watts as Princess Diana have been leaking from the set in recent weeks but the latest, circulating today, show how much she's morphed into the late 'People's Princess' for her role in Diana.
She had help: Four wigs, a prosthetic nose and six weeks of dialogue coaching, according to an Australian news site and Vanity Fair. Plus, she says, she felt the spirit of Diana close by.
"This is a first, but I find myself dreaming about her," Watts told News Ltd on the set outside London.
The film, directed by Oliver Hirschbiegel, originally was called Caught in Flight but the title was changed for obvious reasons. Watts, born in Britain but raised Down Under, wears several dresses once owned by Diana, as well as a custom-made Versace replica of a one-shouldered blue silk gown
"It's scary. Sometimes it's as if you're watching the ghost of Diana," Hirschbiegel said.
The film tells the story of Diana's last two years after her divorce from Prince Charles, when she fell in love with a Pakistani doctor, Hasnat Khan (played by Lost's Naveen Andrews), who eventually broke it off because his conservative family didn't approve. Soon after, the Princess of Wales was killed in a 1997 car crash in Paris, setting off unprecedented mass mourning in Britain.
The royal family never comments on movies made about them but it may be significant that the production was granted permission to film outside the gates and garden of Kensington Palace, where Diana lived before her death.
Watts says she is a little concerned about not doing anything that would hurt Diana's sons, Prince William and Prince Harry.
"We're not trying to destroy any memory," she told News Ltd. "We're trying to show her in the best possible light as a human being, though, full of different layers. It's a story that should be told. A piece of history. But it's tricky because they are here, the boys. I think about that a lot."